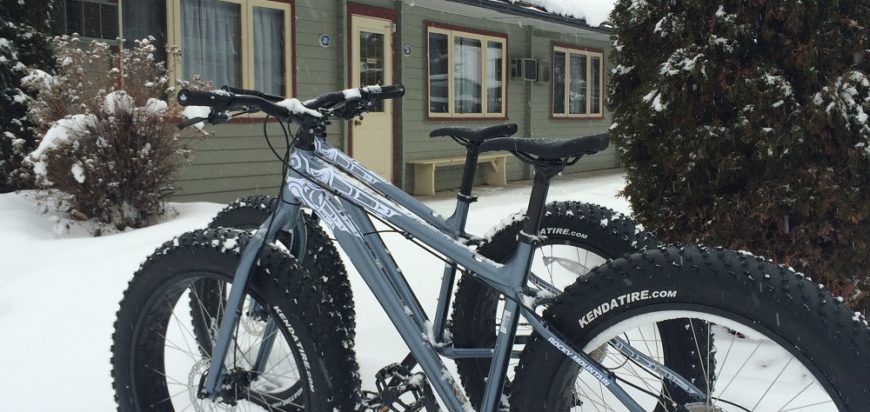 The Fattie Phenomenon, Fernie BC
The evolution of the bicycle over the last few decades has been impressive! One could say an explosion has occurred in the last five years with all the affordable carbon readily available. The summer trail systems are having to adapt to more frequent use, no boundaries now seem to exist as people push further out and up to previously unclaimed victories on top of stunning mountain tops or descend crazy radical lines through couloirs as they drop hundreds of vertical feet down extreme mountain faces. Welcome global events like the Red Bull Rampage, one of the pioneers pushing those very boundaries.
As the trails covered over in winter with snow and typically people rushed for their skis, snowboards and sleds a new craze was slowly simmering and gaining momentum. The birth of the next chapter in bike evolution was born. A designer from Surly bikes named David Gray was the creator of the first mass-produced fat bike called the Pugsley in 2005. From then on it's been a rapid uphill climb for the fat bike. With all the years of tried and tested summer biking there for the taking, carbon fiber frames, sophisticated gearing, braking and wheel sizing etc etc, all getting welded and bolted together to give us the ability to reach those very same mountain peaks that we stand upon triumphantly in summer, but now in our leggings, face masks, gloves and booties!! With our cheeks reddened by the elements and by our efforts, with our nostrils and facial hair encrusted with icicles, we stand there, sometimes we are bent over gasping for breath, but we stand there!
Remember to do each other a favour before the high fives and howls of sheer excitement. Give each other a booger check!!!
Such has been the uprising surge of public interest in the fat bike phenomenon that we at Snow Valley Motel have purchased two Rocky Mountain Blizzard bikes for our guests to enjoy while they stay. Take a day off from skiing and venture out on a ride to some of your favourite Fernie summer single track trails, courtesy of the Snow Valley Motel.
Join us Saturday December 3rd for a fat bike ride at 2pm and 6pm, when we take part in the FMBC's Global Fat Bike Day event. See you there!